Professional Tile Accessories Factory
Our company specializes in the production of aluminum alloy tile trim , PVC tile trim and stainless steel tile trim, with various styles, shapes and colors. The surface treatment process adopts advanced anodized organic aluminum coloring technology, spraying technology and thermal transfer printing technology. The product is light in texture, solid, bright in color, clear in pattern, highly decorative and durable, can meets the needs of different styles of decoration. It is suitable for the covering, protection and strengthening of various floors, tiles, carpets, concrete and wall corners in homes, businesses, public places, etc.
We also specialize in producing waterproof coating, tile adhesive and tile grout. The products are environmentally friendly, stable in film formation, strong in permeability, strong in adhesion, excellent in waterproof performance, moisture-proof, mildew-proof, not afraid of hot and cold environments, can be used in long-term water immersion environments. They are widely used in kitchen, bathroom, balcony, exterior wall, corner, swimming pool, etc.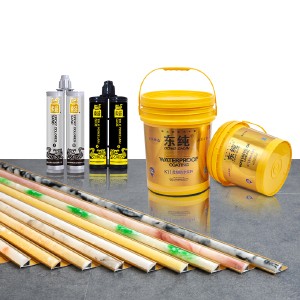 As a vigorous and prosperous company, the company's philosophy always adheres to: Harmony, Integrity, Innovation, Refinement, Cooperation, and Win-Win. Gathering talents, innovating mechanisms, in line with the high standards of the international industry, market demand-oriented, and customer satisfaction as the purpose.
The company's performance is advancing at a leaping speed. After 16 years of development, Dongchun has grown from a little-known small factory to one of the model enterprises in China's building materials industry and waterproof coating industry, with sales outlets all over the country. There are more than 2000 distribution agents.
The company has gathered many professionals who have been active in the decoration, building materials, decoration design and other industries for a long time. With rich industry experience and production experience, we provide high-quality products and excellent pre-sales and after-sales services for customers to beautify their living spaces, and have won the support and trust of consumers. Our various series of products are gradually becoming the leading products in their respective market segments, and have been exported to Russia, Japan, South Korea and Southeast Asian countries.
We sincerely welcome your cooperation to create a better tomorrow.